Parry Sound is an active community and has a number of scenic trails available for everyone to enjoy!
The Town of Parry Sound owns and maintains the well-known Rotary and the Algonquin Regiment Waterfront Trail, a 6 kilometre trail that hugs the shore of Georgian Bay. Known locally as the 'Fitness Trail', one will find a number of interpretive plaques along the way. Crushed granite lines the trail making it suitable for walking, running, hiking, cycling and wheelchairs. In winter months, the Fitness Trail becomes part of the Parry Sound Snowmobile Club's trail network. Trail heads can be found at the bottom of Bay Street, Champagne Street, Prospect Street or Salt Dock Road.
The Northshore Rugged Trail is just that, a rugged trail that follows the Georgian Bay shore. This area is a dog off-leash area with the trail head located at the bottom of Salt Dock Road.
Get active and enjoy the many trails!

Motorized Vehicles on Town of Parry Sound Trails
Motorized vehicles, including All Terrain Vehicles (ATV's) are not permitted on Municipal Hiking Trails, with the exception of snowmobiles on shared-use trails designated as such under the OFSC during the winter months.
Active Transportation
The Town of Parry Sound, along with the Parry Sound Area Active Transportation Committee are committed to offering infrastructure that is suitable to the active transportation movement.  A map of active transportation accessible routes can be found below.
Click the image for a larger view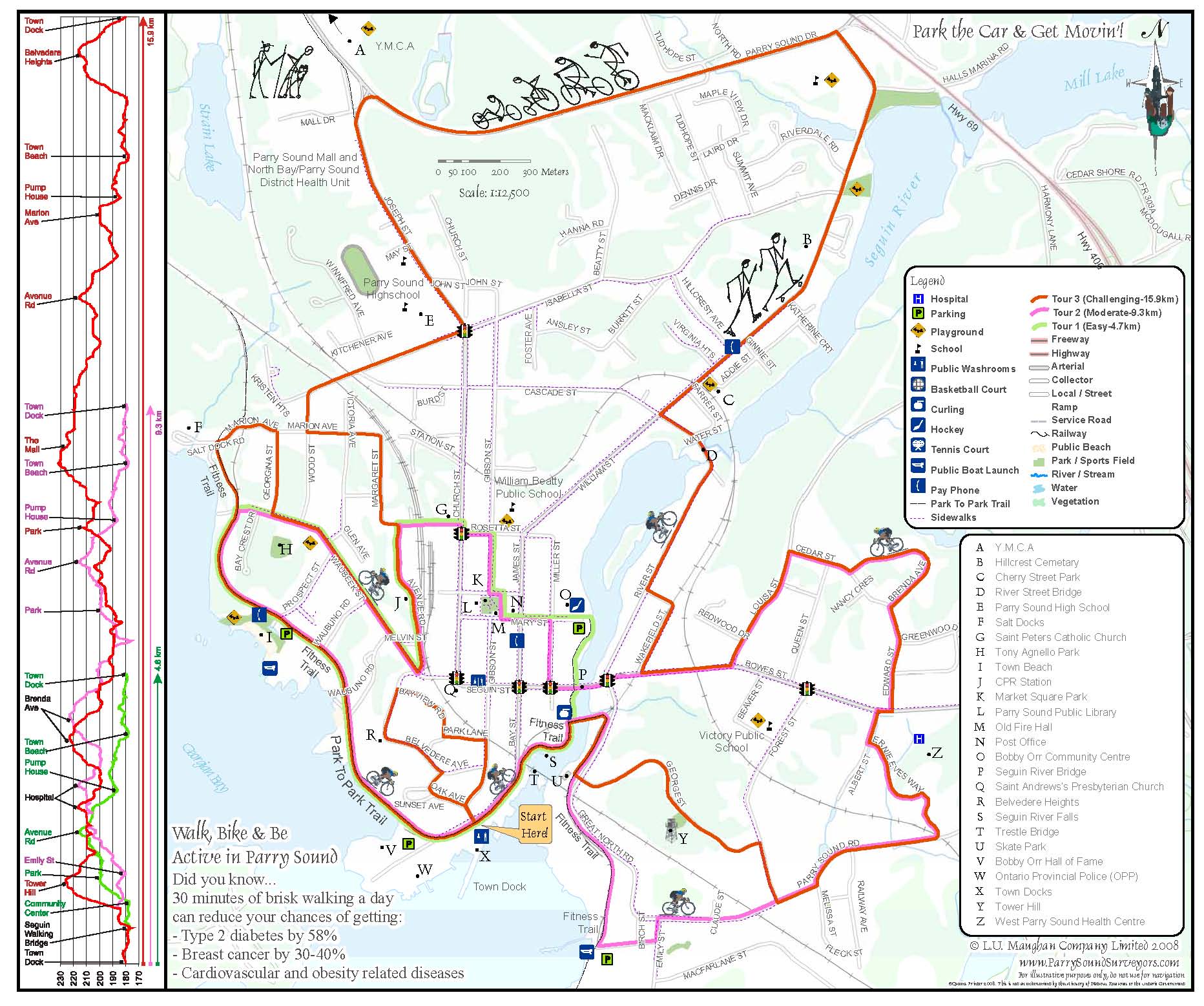 Contact Us
Town of Parry Sound
52 Seguin Street
Parry Sound, ON P2A 1B4
T. (705) 746-2101
F. (705) 746-7461
Monday - Friday, 8:30 AM - 4:30 PM ET
Closed on statutory holidays