Can You Fill These Boots?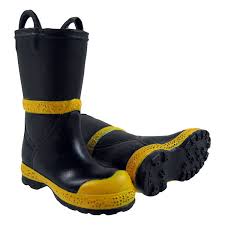 Part-Time Firefighters
Being a part-time firefighter is both challenging and rewarding. The Parry Sound Fire Department (PSFD) has part-time fire fighters that take great pride in belonging to a highly trained fire department. Recruiting new firefighters begins when there are enough vacancies that affect the ability to respond to emergencies. Recruiting drives normally occur every year depending on need. Applications can be submitted at any time and will be considered during the next drive.
Being a firefighter in the Town of Parry Sound involves more than training and fighting fire. The PSFD is looking for brothers and sisters who are enthusiastic, interested in and can be on call for 1 weekend per month, attend 2 evening training sessions per month and is also willing to participate in community service, volunteering, helping neighbours and visitors, fund raisers for both the PSFD Firefighter's Association and/or charitable organizations, food and toy drives and participating in municipal or service group events among other things.
Benefits
There are many benefits to becoming a part-time fire fighter in Parry Sound. Some of the benefits include:
Free transferrable training provided at no cost:

All firefighting to NFPA Curriculum standards, rescue, CPR, first aid and other emergency and safety training,
Potential access to courses held at the Ontario Fire College in Gravenhurst.

Protective clothing, equipment and gear are provided by the fire department.
Uniforms are provided for you to dress and be a part of an organized and dedicated group of like-minded people.
Payment is made for attendance at training, emergency calls and some other departmental activities.
Leadership opportunities exist for advancement and responsibility on the firefighting and support sides of the department.
Family of firefighters offers the opportunity to enjoy camaraderie and build lifelong friendships locally and through networking with other departments.
Social activities are held on various occasions throughout the year.
Comprehensive insurance coverage is provided through the Workplace Safety & Insurance Board and Accident and Sickness Policy through Volunteer Firemen's Insurance Services (VFIS) for you and your family.
And So Much More.
Recruitment Process/Requirements
The firefighter selection process is done by the Parry Sound Fire Department. In the recent past, new recruits have joined with recruits from other fire departments in the area and attended joint recruit training sessions with 2 to 5 fire departments from the West Parry Sound Mutual Aid Fire Services Group. The training program is usually run over 10 weeks on every other Saturday with a few weeknight sessions. The program consists of classroom instruction, hands on practice, proficiency checks and written/practical testing on most aspects of structural firefighting. At the end of the training program, each fire fighter transitions to active emergency response duties.
Recruit Process
Information session:
The purpose of the information session is to provide an overview of the Fire Service, outline recruit training, job performance expectations and provide the applicant with an opportunity to ask questions,
Interview:
Face-to-face interview with members Officers and Firefighters of the Fire Department,
Written examination:
A minimum of 70% on the exam is required,
Physical demands assessment:
Conducted in-house, this assessment consists of various job-related tasks, which must all be successfully completed.
Medical examination:
Medical ex amination by a Medical Doctor of your choice.
Minimum qualifications for part-time firefighter in the PSFD are:
Canadian citizen or legal entitlement to work in Canada as a firefighter
Resident of Parry Sound area and within 5 minutes travel time of the fire hall,
High school graduation diploma (OSSGD) or academic equivalent
Ability to read, write and speak English clearly under normal and stressful conditions,

Applicants must have:

a valid Ontario driver's license - Class DZ, or the ability to obtain it within the 1 year probation period,
a driving record that shows responsible and safe driving habits and,
people with demerit points may be ineligible for consideration.

Have a Criminal Records Check completed with Vulnerable Sector Screening
Additional recommended qualifications for part-time firefighter are:
Valid First Aid and CPR certificates,
Be capable of handling intense and sustained physical activity
Don't just live in Parry Sound...Help Protect It !
Contact Us
Town of Parry Sound
52 Seguin Street
Parry Sound, ON P2A 1B4
T. (705) 746-2101
F. (705) 746-7461
Monday - Friday, 8:30 AM - 4:30 PM ET
Closed on statutory holidays